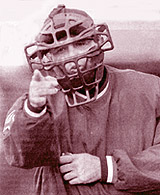 Umpires play an integral role in the integrity,
sportsmanship and enjoyment of the game. If you are looking for an umpire organization to officiate your Baseball & Softball Leagues, you found one of the top organizations in the Delaware Valley -Tri-County Umpire Group.
Our Goal
We strive to offer the best officiating on the field using our skills, training and rules interpretations. How DO we DO it?
Because we officiate under different league rules, we spend a lot of time cross training.
We have more combined experience than any other group in the tri-county area. Our umpires range in ages from 16 to 65 - all thoroughly trained and all have a deep respect for their role as an official.
To set an example for the players, all of our umpires meet our high caliber of professionalism and are always in uniform when they step onto the playing field.
We invite you to browse our site and see the many things that we do during the Baseball/Softball season.
You can become a member, find out the latest news, learn from the Tip of the Week , or the contact us if you have any questions.
Click on the Buttons in the upper left column to get information on each page.
BECOME A MEMBER:........To join our group
MESSAGE CENTER:..........To get up to date information
NEWS:.............................To get current information about the activities of our group
TIP OF THE WEEK:.........Baseball and Softball information
LOCKER ROOM:..............Baseball and Softball information
BULLPEN:......................Baseball and Softball information
DEAR COACH:................Baseball and Softball information